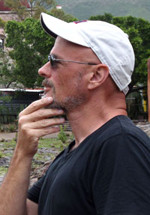 E.C. McMullen Jr.
in Mitla, Oaxaca, Mexico
E.C. McMullen Jr.
Film Maker:
Director, Actor, Producer, Art Director, Cinematographer, Production Designer, Special Effects MUA
Writer:
Fiction, Non-Fiction, Screenplays, Reviewer, Journalist, Copy Writer
BIO
U.S. Navy, trained Broadcast Journalist.
E.C. McMullen Jr. wears many hats in movie production including, Writer, Director, Producer, Production Designer, SFX MUA, and Actor. He is known for his work on Mine Games (2014), A Sierra Nevada Gunfight (2013), Universal Dead (2010), and The Crusader (2009). He is married to Producer and Still Photographer, Luz McMullen.
CONNECTIONS: Frequently Works With
Producer / Still Photographer Luz McMullen
Actor Gary Graham
Actor Michael Broderick
Writer / Producer Kelly Parks
Writer / Director Vernon E. Mortensen
Actor Matt Bradford
Editor John Niewiadomy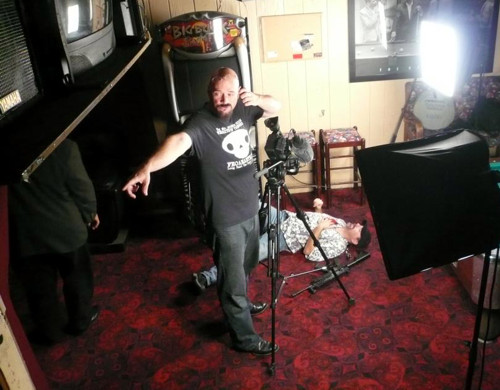 FILMOGRAPHY: By Year
DOORBELL


Writer, Director:

Shawn B. Harris


Starring:


Margaux Amie
Rico King
E.C. McMullen Jr.

2017
Actor
A BITE BETWEEN SISTERS


Producer, Director:

Laura Heuston




Producer:

Shawn B. Harris


Starring:


Tommy Poynter
Sarah Wyckoff
Tibbye Thomas
E.C. McMullen Jr.

2016
Actor, Writer
WORK RELATED (TV)


Writer, Producer, Director:

Kelly Parks


Starring:


Gary Graham
Sarah Agor
Matt Bradford
2015
Actor, Associate Producer

MINE GAMES


Co-Writer, Producer, Director: Richard Gray
Starring:
Ethan Peck
Julianna Guill
Joseph Cross
Alex Meraz
Briana Evigan
2014
Production Designer

MIKEY BOY




Director:

Chris Berkenkamp


Starring:


Mike Dusi
Chris Wylde
2013
Actor, Art Consultant
THE NIGHT MY MONSTER DIED


Writer, Producer, Director

: E.C. McMullen Jr.


Starring:


Michael Broderick
Canaan Tai Estes
Shondra Marie


Producer, Executive Producer, Set Designer, Art Director:

Luz McMullen




Associate Producer:

Kelly Parks


Music Supervisor:

Sean Fernald


Music by:

Stever
2013
Writer, Director, Producer, SFX MUA
A SIERRA NEVADA GUNFIGHT


Co-Writer, Producer, & Director:

Vernon E. Mortensen


Starring:


Michael Madsen
John Savage
Matt Bradford


Producer:

Kelly Parks


Set Photographer:




Luz McMullen



2013
SFX MUA
BUSHIDO


Director:

Skye McCole Bartusiak




Starring:


Sam Hoger
Sky McCole Bartusiak
Darryl Perrilloux


Still Photographer:




Luz McMullen

2013

Writer

Award Winner of 2013 48Hour Film Fest - Houston.
Best Special Effects
Best Choreography

TEACHER OF THE YEAR


Starring:




John Brooks Jr.

2013
Actor,
Cinematographer,
Camera
THE APP


Starring:


Roy Allen III
Dan Sutter
Jillie Reil
2011
Actor
UNIVERSAL DEAD

(TV)




Director:

Vernon E. Mortensen


Starring:


Doug Jones
D.B. Sweeney
Gary Graham
Michael Broderick
Craig Randall Sawyer


Writer, Producer:


Kelly Parks


Still Photographer:


Luz McMullen
2010

Production Designer, SFX MUA, Actor

Winner of
GI Film Festival 2015

- Best Short Fiction

Official selection of the 2013 Marseille Web Fest!

Five Award Winner of the
2013 Best of LA Webfest.
– Outstanding Score
– Outstanding Writer
– Outstanding Director
– Outstanding Web Series
– Grand Prize Winner

Official Selection of the
2012 LA Horror Fest.

THE CRUSADER

(TV)




Writer, Producer, Director:

Kelly Parks


Starring:


Colin Cunningham
Gary Graham
Matt Bradford
Annemarie Pazmino
Michael Broderick
2009
Art Director,
Actor
LAST CALL


Writer, Producer, Director:

E.C. McMullen Jr.


Producer:

Kelly Parks


Starring:


Terry M. West
2009

Writer, Producer, Director,
Camera Operator,
Sound,
Art Director,
SFX MUA

Official Selection of the 2009 LosCon 36, Tabloid Witch Film Festival

PRIMITIVE RECALL




Starring:


Bridgetta Tomarchio
Monique Barajas

2008
SFX MUA

CALIFORNICATION

: Season 1 (TV)
Created by

Tom Kapinos


Episode: Hell-A-Woman
Starring:
David Duchovny
Natasha McElhone
Madeleine Martin
Evan Handler

2007
Actor
LAS VEGAS

:

Season 4 (TV)
Created by Gary Scott Thompson
Episode: Barechested In The Park
Starring:
James Caan
Josh Duhamel
Jill Bartlett
2007
Actor
FILMOGRAPHY:
ACTOR - WRITER - DIRECTOR - PRODUCER -
PRODUCTION ARTIST / ART DIRECTOR - SFX MAKE-UP ARTIST
Producer, Director -
^ WORK RELATED, 2015
^ THE NIGHT MY MONSTER DIED, 2013
^ LAST CALL, 2008
Writer -
- A BITE BETWEEN SISTERS, 2016 (Action, Comedy, Supernatural, Thriller)
- FOUL BROOD (Action, Science Fiction, Horror Thriller)
- THE SUMMONING (Supernatural, Action, Horror Thriller)
^ THE NIGHT MY MONSTER DIED, 2013 (Science Fiction, Horror Thriller)
^ BUSHIDO, 2013 (Action, Drama)
^ LAST CALL, 2007 (Science Fiction, Drama)
- CHESTACLESE (Action, Comedy - 2 spec scripts, completed and sold to Jim Smith. Animated cartoon series in development)
Production Artist / Art Director -
^ MINE GAMES, 2014 (U.S. release)
^ MIKEYBOY, 2011 (Completed, 2012. In Film Festivals)
^ UNIVERSAL DEAD, 2009 - 2010
^ THE CRUSADE, 2009
^ LAST CALL, 2008
SFX Make-up Artist -
^ THE NIGHT MY MONSTER DIED, 2013
^ A SIERRA NEVADA GUNFIGHT, 2013
* UNIVERSAL DEAD, 2009 - 2010
^ LAST CALL, 2008
^ PRIMITIVE RECALL, 2008
Actor -
- DOORBELL, 2017 (Cop)
- A BITE BETWEEN SISTERS, 2016 (Doug)
^ WORK RELATED, 2015 (Dick In The Truck)
^ TEACHER OF THE YEAR, 2012 (Dallas Radcliffe III)
^ MIKEYBOY, 2011 (Angry Production Designer)
^ THE APP, 2011 (The Biker)
^ A SIERRA NEVADA GUNFIGHT, 2013 (Stunt-Double / Stand-In for Michael Madsen)
* UNIVERSAL DEAD, 2010 (Field zombie)
^ THE CRUSADER, 2009 (Rodney)
^ CALIFORNICATION, Season 1, Episode 2: Hell-A Woman - 2007 (extra)
^ LAS VEGAS, Season 4, Episode 15: Barechested in the Park - 2007 (extra)

FOLLOW ME:
FEO AMANTE
IMDb
AMAZON
BLOG
TWITTER
ECMJR.COM IS COPYRIGHT 2021 by E.C.MCMULLEN JR. | CONTACT: EDDIE.
ALL WORK CREATED AND COPYRIGHT BY E.C.McMULLEN JR. UNLESS OTHERWISE NOTED.
BUILT ENTIRELY WITH ADOBE CS, CORELDRAW X5, HTML5, CSS3, JSCRIPT, and JQUERY.
E.C. McMullen Jr. is a participant in the Amazon Services LLC Associates Program, an affiliate advertising program designed to provide a means for sites to earn advertising fees by advertising and linking to amazon.com
THANKS FOR READING!

THE END